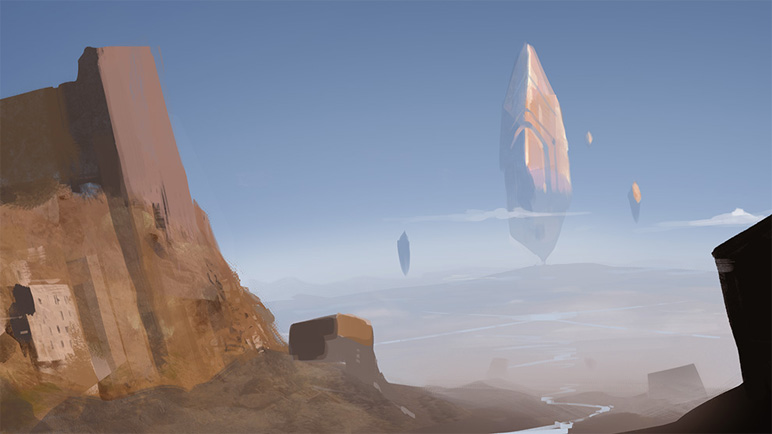 Professional table-top RPG designer and writer Monte Cook, best known for his work on Dungeons & Dragons, is presently working on a new project, Numenera
, a science fantasy RPG that focuses on story and ideas over mechanics. I like the sound of it already.
If you're unfamiliar with the legendary Monte Cook, he began working for TSR in 1992 and became a Senior Designer when the company was bought over by Wizards of the Coast. Cook was one of the major players in the creation of D&D 3rd Edition.
In 2001, he left WotC to found Malhavoc Press and write for the d20 System independently, but ten years later, he made his triumphant return to WotC as lead designer for the next edition of D&D. This return would be short-lived, however, as "differences of opinion with the company" led Cook to leave WotC once again in April 2012.
Now, Cook has unveiled his Numenera project, which takes place in a far-future setting in which humanity lives amid the remnants of great civilizations that have risen and fallen on Earth. Player characters, currently surviving in an era of Medieval-level technology, explore this world of mystery and danger to find leftover technological ("magical") artifacts of the past.
The game system itself is designed to be quick and easy for beginners, while offering additional complexity for those who desire it. Gameplay involves a simple d20 roll that determines success or failure for any kind of action. To avoid a lot of cumbersome math at the game table, there aren't a lot of modifiers to this roll. Instead, skills and other assets reduce the difficulty of a task.
Rather than make combat the focus of XP gains, characters earn XP when they make new, interesting discoveries — although combat is often necessary to make discoveries and accomplish missions.
XP can be spent to increase character abilities, or to affect events in the game (such as rerolling dice), gain short-term benefits or advance in levels.
The game is also being designed to make things easier on the GM. The goal is to decrease the amount of time the GM spends juggling game stats, and allow him to instead focus entirely on the story and the action at hand. Creatures, NPCs and situations will be easy to make up entirely on the fly and even easier to run.
I love the sound of this. After a dozen years of DMing, I've found myself progressing toward more story-driven experiences, and having to devote a great amount of my prep time to balancing game mechanics cuts into the time I'd like to spend developing strong characters, dialogue, and plot elements. I just hope that the rules for Numenera can be applied to a variety of settings.
If you'd like to financially back Numenera, visit Cook's Kickstarter page.